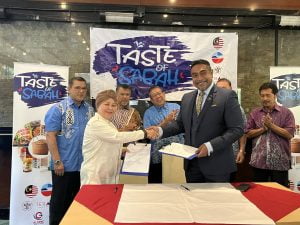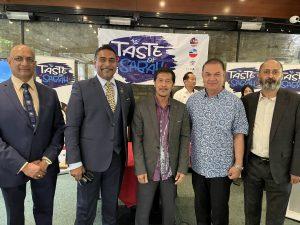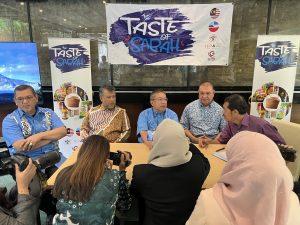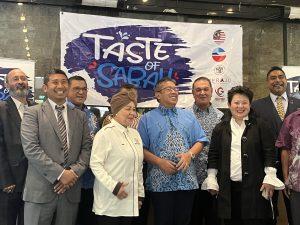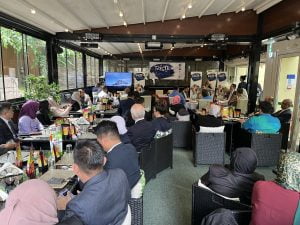 photo description:
OMalaysia Founder, Simon Suresh signing an MOU with the Taste of Sabah delegation to
promote Sabahan products in the UK

OMalaysia Founder, Simon Suresh signing an MOU with the Taste of Sabah delegation to promote Sabahan products in the United Kingdom. 
— 
OMalaysia founder and CEO, Simon Suresh, is delighted to be part of a two-week 'Taste of
Sabah' promotion, in association with 11 well-known restaurants in London and several
wholesalers/distributors and online retailers in the UK and France.
Simon joined representatives from the restaurants and the other specially selected
wholesalers and Kristal Handal Sdn Bhd, a subsidiary of Yayasan Sabah Group, at a
ceremony lead by Datuk Dr Abd Latiff Ahmad, a Minister from the Malaysian Prime
Minister's Department, to sign a memorandum of understanding which will promote the
Bumiputera Sabah products in the UK.
Abd Latiff said the UK and France offer significant growth and immense opportunities for
business collaborations.
"I am delighted to lead this Taste of Sabah promotion to spur opportunities for Made in
Sabah products to mark their presence in the UK market," he said.
He emphasised that the goal at the PM's Department, through TERAJU, is to help the B40
and M40 entrepreneurs extend their footprints into regional and global markets.
This mission is a vital step in the right direction to ensure the Global Entrepreneur One-Stop
Centre (GLOPEC) Programme and participating Sabah entrepreneurs can network, learn
about business opportunities, and build stronger bridges to grow their businesses, create
jobs and benefit the community for a more sustainable and inclusive business model.
GLOPEC is a platform established through a strategic partnership between Yayasan Sabah
Group and Bumiputera Affirmative Action Unit under the PM's Department (TERAJU) to
assist Sabah SMEs in growing their business operations and connecting them to a larger
network of global suppliers, importers, and distributors.
Simon was honoured that OMalaysia was selected to be part of the mission, particularly as it
aligns with the OMalaysia mission and vision to continue to help and promote small and
medium sized companies in Malaysia to access markets across the globe.
"It was an honour to sign the MOU and I hope this opens new channels for further
promotions and introducing the Malaysia brand in the UK," Simon said.