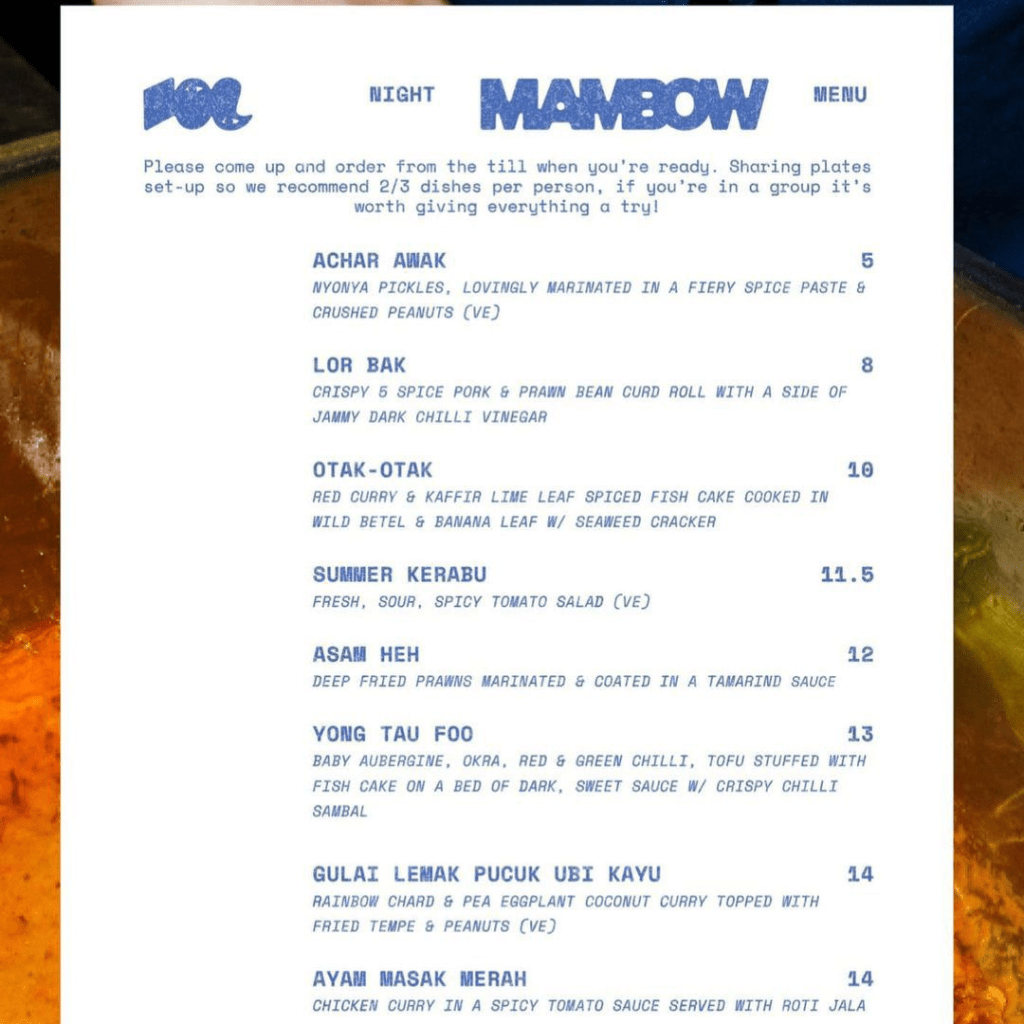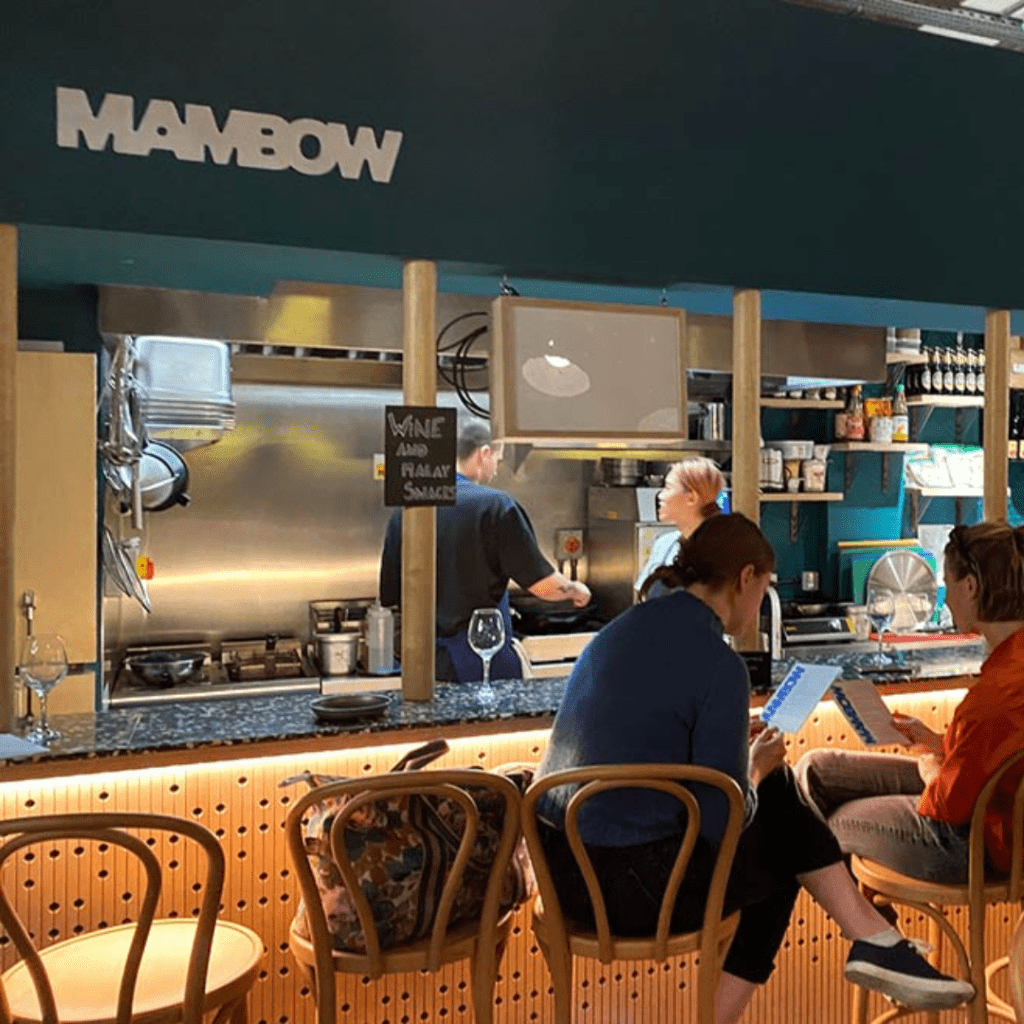 Introducing the Latest Mambow Menu
Mambow, the renowned Malaysian tapas restaurant in Peckham, has recently unveiled its new menu, featuring an array of tantalizing dishes that showcase the richness of Malaysian cuisine. Each dish not only delights the taste buds but also carries a fascinating history. Let's delve into the menu and explore the unique stories behind these culinary creations.
Achar Awak: Nyonya Pickles Handmade, Marinated in a Fiery Spice Paste & Peanuts
Achar Awak is a beloved Nyonya pickle dish that showcases the influence of Peranakan cuisine. Handcrafted with care, this vibrant medley of pickled vegetables is marinated in a fiery spice paste and adorned with peanuts. Nyonya cuisine is a fusion of Chinese and Malay flavors, developed by the descendants of Chinese immigrants who settled in the Malay archipelago. Achar Awak reflects the intricate balance of sweet, sour, and spicy flavors that are characteristic of Nyonya cuisine.
Otak Otak: Red Curry & Kaffir Lime Leaf Spiced Fish Cake Cooked in Wild Betel Banana Leaf
Otak Otak is a popular delicacy that originated in Southeast Asia, particularly in Malaysia and Indonesia. This dish showcases the harmonious blend of flavors and aromatic ingredients that define Malaysian cuisine. A mixture of fish, spices, and herbs is seasoned with red curry and fragrant kaffir lime leaf, then wrapped in wild betel banana leaf before being grilled or steamed. The banana leaf infuses the fish cake with a delightful smoky aroma, while the spices lend it a burst of tantalizing flavors.
Asam Heh: Deep Fried Prawns Marinated and Coated in Tamarind Sauce
Asam Heh showcases the exquisite marriage of seafood and tangy tamarind sauce—a combination that is a hallmark of Malaysian cuisine. The succulent prawns are marinated and then deep-fried to perfection, creating a crispy exterior that gives way to juicy, flavorful prawns. The tamarind sauce adds a delightful tanginess that complements the natural sweetness of the prawns. This dish represents the influence of Malay flavors and their ingenious use of tamarind in creating delectable seafood dishes.
Gulai Lemak Pucuk Ubi Kayu: Rainbow Chard and Pea Eggplant in Coconut Curry, Topped with Fried Tempeh and Peanuts
Gulai Lemak Pucuk Ubi Kayu is a vegetarian delight that showcases the diversity of Malaysian cuisine. Rainbow chard and pea eggplant are cooked in a creamy coconut curry, creating a harmonious blend of flavors and textures. The addition of fried tempeh, a traditional soy-based ingredient, adds a delightful crunch, while the peanuts provide a nutty undertone. This dish highlights the versatility of Malaysian cuisine in creating delicious plant-based options.
Ayam Masak Merah: Chicken Curry in a Spicy Tomato Sauce Served in Roti Jala
Ayam Masak Merah is a classic Malaysian dish that brings together the flavors of chicken curry and spicy tomato sauce. The chicken is simmered in a rich and aromatic sauce, infused with spices and enhanced with the tanginess of tomatoes. The dish is traditionally served with roti jala, a lacy crepe-like bread that complements the robust flavors of the curry. Ayam Masak Merah is a testament to the vibrant and bold flavors that characterize Malaysian cuisine.
With its latest menu, Mambow continues to captivate diners with its innovative take on Malaysian cuisine. Each dish not only showcases the unique flavors and textures of Malaysian ingredients but also pays homage to the diverse cultural heritage that