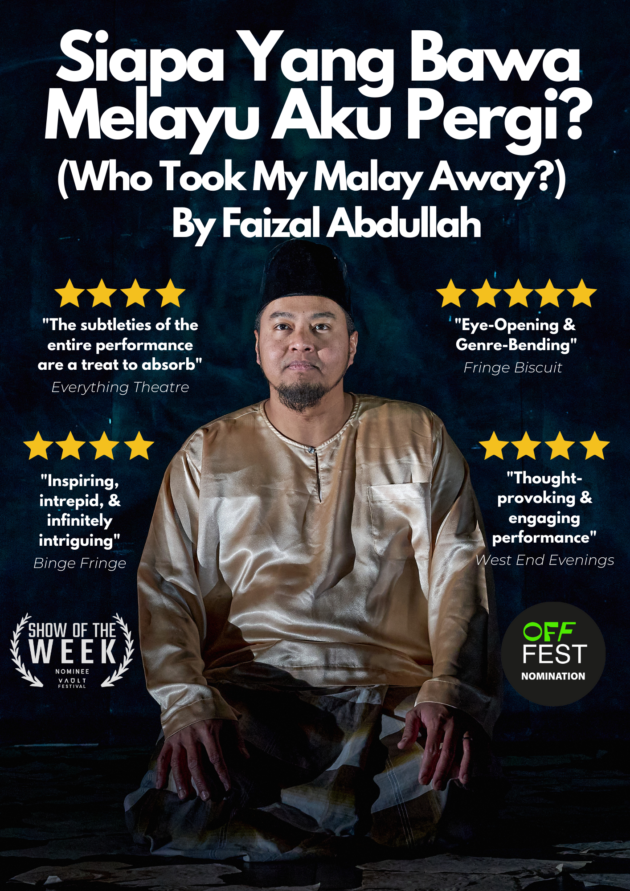 🌍 Unveiling the Story of "Siapa Yang Bawa Melayu Aku Pergi?" 🎭
Wed 2nd Aug – Sun 13th Aug 2023
Time: 16:20 ( 60 mins )
Genre: Theatre, Eclipse
Age: 12
"Siapa Yang Bawa Melayu Aku Pergi?" is Faizal Abdullah's heartfelt love letter to his birthplace and hometown, Singapore. Presented in the style of a lecture-performance, the production delves into Faizal's Muslim-Malay-Singaporean identity, particularly exploring the complexities and tensions of being both "Malay" and "Singaporean." The show tackles themes such as colonization, identity, indigenous displacement, and the erosion of culture, heritage, and language. While the topics are serious, Faizal narrates his personal journey in a self-deprecating, light-hearted, and humorous manner.
The creative team behind this remarkable production comprises artists from the Asian diaspora, including London-based visual artists Kinga Markus and Jeffrey Choy, as well as Singaporean sound artist Isyraf, whose music adds a compelling layer to the performance.
💭 Unveiling Personal Motivations 📖
When asked why he wanted to tell this story, Faizal shared that "Siapa Yang Bawa Melayu Aku Pergi?" originated as a scenography exercise during his university days. The concept of "home" reminded him of Singapore, his family, friends, and the familiar elements that shaped his upbringing. As Faizal identifies himself as Singaporean, Malay, and Muslim, he found it perplexing that many people would question his identity based on stereotypes. To set the record straight and challenge these misconceptions, Faizal decided to create a show titled "Who Took My Malay Away?"
Through the process of crafting the performance, Faizal also embarked on a personal exploration of his roots, heritage, and culture. He became increasingly aware of forgotten facets of the Malay language, lost Malay customs, and his own reactions when referred to as "Malay." This introspection led him to question the reasons behind these circumstances and to examine the broader societal factors that allowed such identity challenges to persist.
🏴󠁧󠁢󠁳󠁣󠁴󠁿 Bringing the Show to Edinburgh 🎉
Bringing "Siapa Yang Bawa Melayu Aku Pergi?" to the Edinburgh Festival Fringe holds multiple significances for Faizal and his team. They aim to infuse the festival with vibrant diversity and showcase a brown narrative that may be unfamiliar to many attendees. In the words of Malala Yousafzai, "There should be no discrimination against languages people speak, skin color, or religion." By sharing his language, voice, and unique perspective as a person of color, Faizal hopes to contribute to a more inclusive and colorful festival experience.
Participating in the Edinburgh Fringe also symbolizes a rite of passage for Faizal and his team. They aspire to reach a wider audience and be part of an extraordinary collection of performances. By immersing themselves in this artistic community for the duration of the festival, they look forward to forging connections with other talented artists and productions. Moreover, their ultimate goal is to tour the show, and they believe that the exposure gained at the Edinburgh Fringe will bring them one step closer to achieving this aspiration.
🎟️ Who Should Attend? 🎭
Faizal extends an invitation to everyone to experience "Siapa Yang Bawa Melayu Aku Pergi?" He welcomes those who are unfamiliar with Singapore and its people to gain a deeper understanding. For those already familiar with Singapore, he guarantees surprises and a fresh perspective. If you enjoyed the movie "Crazy Rich Asians" but want to recalibrate your perception of Singapore, this performance is a must-see. Additionally, if you have an interest in decolonization or have ever felt a sense of disconnection from your own heritage, culture, or language, Faizal believes that this show will resonate with you. Ultimately, if you crave an authentic and honest exploration of Faizal Abdullah's identity, "Siapa Yang Bawa Melayu Aku Pergi?" is the perfect choice.
🌟 Takeaways from the Performance 🌱
Through "Siapa Yang Bawa Melayu Aku Pergi?," Faizal hopes that audiences will come away with a greater understanding of the richness, complexity, and diversity of the Malay culture, language, and people. He wishes to dispel the notion that Malay is synonymous with being Malaysian and encourage a more nuanced perspective. Faizal's performance represents a deeply personal and honest expression of his thoughts and feelings about being Muslim, Malay, and Singaporean. Ultimately, he aspires to unveil Singapore as he knows it—an ever-evolving, multicultural city, imperfect yet home.
📣 Don't Miss Out on this Captivating Show! 🎭
Join Faizal Abdullah at the Edinburgh Festival Fringe and experience "Siapa Yang Bawa Melayu Aku Pergi?" Witness the power of personal storytelling and gain a fresh perspective on identity, culture, and heritage. Prepare to be enthralled by Faizal's authentic voice and his unique portrayal of Singapore. Let his performance challenge preconceived notions and foster a greater appreciation for the diverse narratives that enrich our world.