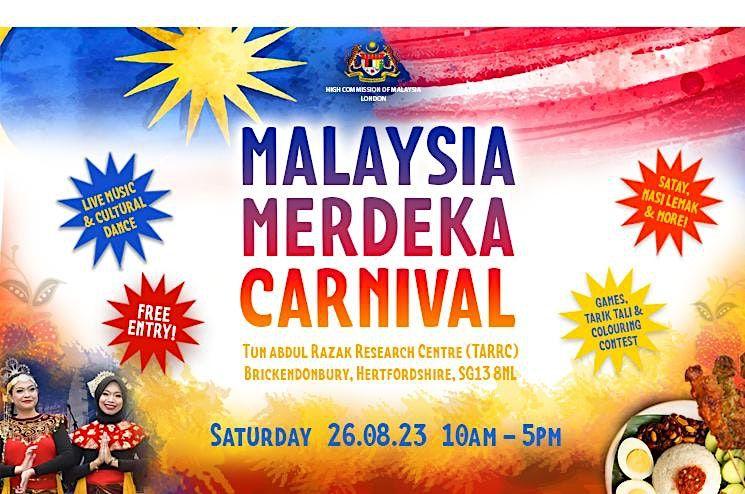 Date: August 26th, 2023 Time: 10:00 am – 5:00 pm Location: TARRC's Brickendonbury Estate
In celebration of Malaysia's National Day on August 31st, TARRC (Tun Abdul Razak Research Centre) is thrilled to once again host the highly anticipated Malaysian Merdeka Carnival Day. This exciting event takes place on the stunning grounds of TARRC's Brickendonbury Estate and attracts over 2000 people each year.
🚗 Vehicle Admission and Parking 🅿️
Please note that there will be an admission fee for vehicles this year. The exact cost is yet to be determined. However, worry not, as there is ample parking available for all attendees. You're invited to join us from 10:00 am until 5:00 pm for a day filled with excitement and enjoyment.
🚫 Shuttle Service Update 🚂
Regrettably, there will not be a free shuttle service provided from Hertford North and East Train Stations this year. We apologize for any inconvenience caused and recommend making alternative travel arrangements.
🍽️ Food Galore and Entertainment 🎪
As always, the Malaysian Merdeka Carnival Day promises to tantalize your taste buds with a wide variety of glorious Malaysian food available at the numerous stalls. Be sure to sample the delicious freshly barbecued satay and other delectable treats. Additionally, there will be stalls and entertainment specifically catered to the younger guests, ensuring a fun-filled day for the entire family.
💃 Immerse in Malaysia's Vibrant Culture 🎶
Immerse yourself in the vibrant culture of Malaysia at this highly anticipated carnival. Experience the rich traditions and participate in an array of fun activities and traditional games throughout the day. The event will also showcase captivating live dance performances and musical acts that celebrate Malaysia's "Truly Asia" spirit.
📣 Stay Connected on Twitter 🐦
Follow us on Twitter @Brickendonbury and join the conversation using the hashtag #MalaysianCarnivalUK. Stay up-to-date with the day's events, exciting announcements, and share your experiences with fellow attendees.
🤝 Organizers and Contact Information 📞
The Malaysian Merdeka Carnival Day is organized by the Malaysian Community and the High Commission of Malaysia in the United Kingdom. For further inquiries, please feel free to contact the Malaysian High Commission at 45-46 Belgrave Square, London SW1X 8QT. You can reach them via phone at 0207 235 8033 or email at [email protected]. Alternatively, you can contact TARRC at 01992 584966 or email [email protected].
🇲🇾 Let's come together and celebrate the spirit of Malaysia's independence at the Malaysian Merdeka Carnival Day. Join us for a day of cultural immersion, delicious food, and unforgettable entertainment. Save the date, bring your family and friends, and experience the vibrancy of Malaysia right here in the United Kingdom! 🎉